Local Information :: theatre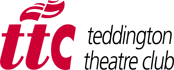 Teddington Theatre Club is one of the leading non-professional theatre companies in the South East of England. Founded in 1927, TTC moved to the Hampton Hill Playhouse, which it owns and manages, in 1998.
The Club includes and welcomes actors, designers, technicians, backstage and front-of-house assistants, and presents eight main house productions and four studio productions a year. We have an open casting policy: anyone who is interested in joining the theatre as an active member is welcome at our casting sessions.