Local Information :: historic house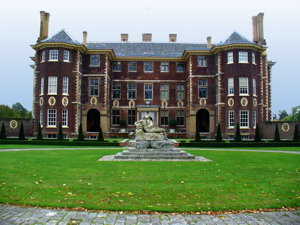 [Ham House is a] spectacular 17th-century house with original interiors and formal garden.

Ham House is unique in Europe as the most complete survival of 17th-century fashion and power. One of a series of palaces and grand houses along the banks of the Thames, it was built in 1610 and enlarged in the 1670s, when it was at the heart of Restoration court life and intrigue. It was then occupied by the same family until 1948. The formal garden is significant for its survival within the area known as the cradle of the English Landscape Movement. The outbuildings include an orangery, ice house, still house and dairy with cast iron 'cows legs' supporting marble slabs.