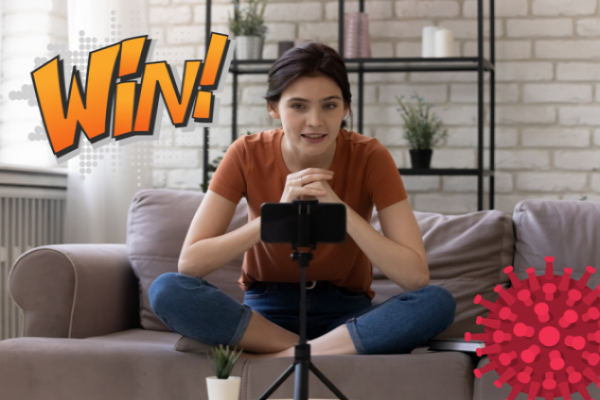 Young filmmakers in the borough could be in with the chance of winning great prizes, including a family paddling boarding session and tickets to Kew Gardens at Christmas, by entering a local competition to promote Covid-safety.
As we head into winter, it is so important that COVID-19 levels are kept as low as possible in the borough. Therefore, Richmond Council is appealing to young people in the borough to help by creating eye-catching films outlining what people can do to keep themselves safe.
There are two categories in the competition, each with their own great prizes:
12-15 year olds are invited to create short videos discussing:
The top two winners in this category will take home a family ticket (2 adults and 2 children) to Christmas at Kew Gardens OR a pair of tickets for singalong The Greatest Showman at Richmond Theatre.
16-17 year olds year are invited to create short videos discussing:
The top two winners in this category will take home a voucher for paddle boarding (2 adults and 2 young people) for a two- hour paddle boarding class with Active 360 Richmond OR a £40 voucher for a local cinema.
Cllr Gareth Roberts, Leader of Richmond Council, said:
"We know that COVID-19 has not gone away. The changes to COVID-19 restrictions earlier this year saw us all breathe a sigh of relief that things would return to normal.
"However, whilst these changes gave us more freedom, we are not out of the woods yet and it would be foolish of us all to think that COVID-19 has gone away.
"We still need to take steps to protect ourselves, our families and those around us. If we don't get the virus under control by winter, there will be consequences.
"So, we need to enlist the help of our younger, creative residents in the borough. It is so easy these days to create short videos, either on our phones or on a camera. We would like young people to come forward with their videos on why it is important to stay safe.
"We have some great prizes, and I would encourage as many young people as possible to enter. We all need to work together to combat this virus."
View competition rules and information on how to apply.
The deadline for submissions is 31 October 2021.
– from a Richmond Council press release - 30 September 2021