In April 1960 I went with my friend Dave Cooper to Finsbury Park Empire and our very first pop concert. It was a freezing cold rainy night and the Finsbury Park Empire was a dump and within a month of being closed for ever but we didn't care. We were only 14 and the star of the show that night was our hero, the guitar playing "twang meister" Duane Eddy.
30 June 2011 | around_town
30 June 2011 | around_town
There is a busy and exciting summer at Orleans House. August will see an extravaganza of materials and techniques with workshops for everybody, from a Textile Tastic workshop for 4-5 year olds and frenzied days of activities for 6-9 and 9-14 year olds, to our Photography Summer School for 12-14 and 15-17 year olds. Read on to find details of these and other activities. Booking essential: Please call 020 8831 6000 or visit our website where you can book online at: www.richmond.gov.uk/arts
30 June 2011 | around_town
Anyone who sets out to write a history of the old Hall that stands next to St. Stephen's School on the Chertsey Road has their work cut out simply because the firm facts are difficult to find. For example…what is the place called? Is it "St. Stephen's School Hall" as most people think or is it "St Stephen's Church Hall" as the notice board outside suggests? Could it be "St Stephen's Mission Hall" as one set of records describe it or is it "St Paul's Mission Hall" as given in another? Perhaps it is even "St Paul's Church"? Confusing…
23 June 2011 | around_town
Saturday, the 18th June 2011, was St Stephen Junior School's annual five-a-side tournament. Each year group had their own mini-round-robin and champion. There were also trophies for 'best dressed' and boy and girl of the match. The weather mostly co-operated with only the Year 5 group getting hit with a gale. The day was a huge success.
Well done to all who participated!
23 June 2011 | news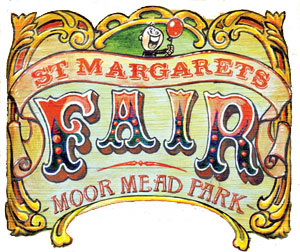 Come celebrate the 33rd annual St Margarets Fair on Moormead Park from noon to 8pm on 16th July 2011
Every year volunteers organise the following:
17 June 2011 | around_town
Plans are underway to transform our school. We'd like to share these plans and listen to your feedback.
All past, present and future parents are invited to join us for a glass of wine at 8.30pm Thursday 23rd June in the St Stephen's School Hall
17 June 2011 | around_town
"Two of Britain's biggest teaching unions have voted in favour of a strike over changes to pensions, in the first sign of collective opposition to the coalition's austerity programme.

The ballot in favour of a strike by the National Union of Teachers (NUT) and the Association of Teachers and Lecturers (ATL) is expected to close schools across England and Wales this term, affecting millions of children. The civil service union the PCS publishes the result of its own strike ballot on Wednesday."

– from The Guardian - 14 June 2011

Currently we know the following have announced they are closing, or part-closing on the 30 June.

* St Stephens CE Junior School - closed * Orleans Infant School - closed * Grey Court School - closed * Archdeacon Cambridge's CE Primary School - closed * Richmond College - closed * Stanley Primary School - only some classes open

If you know of other local schools, please email content@stmargarets.london

Note: We have also heard that: Orleans Park, Kingston Grammar School are open.

Updates:

* 23 June - added Orleans Infant School, thanks Camilla Danson * 27 June - added Archdeacon, Grey Court and Stanley Primary, thanks Ian, Becky, Kim and Graham
17 June 2011 | news
For years Zoos around the world have been facing an apparently unresolvable dilemma. It goes like this…
Young people like visiting zoos, seeing the animals living there and learning about them.
BUT…
Many of the animals in Zoos are nocturnal which means they are only active at night…
HOWEVER…
Zoos are closed to the public at night .
WHICH MEANS…
Young people visiting zoos only get to see about half the creatures living there.
16 June 2011 | around_town
Strawberry Hill House, Twickenham 12noon to 7.30pm. Music stage with 8 bands, charity and craft stalls, children's rides, beer and food. Only £2 /children free - www.strawberryhillmusicday.co.uk
16 June 2011 | around_town
Older Articles