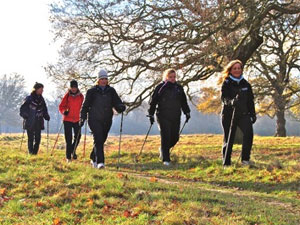 Pole2Pole Nordic Walking started in November 2008. It has become more and more popular with people in West London because of our beautiful riverside walkways and parks.
The all inclusive whole body workout, Nordic Walking, is the fastest growing sport in the UK. It is an efficient, low-stress, holistic exercise that involves the use of specially designed poles which are supplied at all sessions. Over 8 million people are now experiencing the positive effects of this hugely social activity throughout Europe. It requires the correct technique in order to incorporate 90% of your skeletal muscles, to increase the calories burned and help you tone up and get fit. Nordic Walking is the ideal way for people of all ages and fitness levels to get outdoors and keep active.
Kay Speakman is a qualified Nordic Walking UK Instructor. She is properly qualified and insured to deliver a safe and exciting outdoor experience.
Details